60E1 (UIC 60) Rail
Description:
The 60E1 (UIC60) rail model is manufactured according to the European standard EN 13674-1. It is used for railroad construction. This is a type T section rail (flat botom rails) with a 60.21 kg mass per meter. For a standard track is used the 60E1 / UIC60 rail for medium and heavy load traffic.

The origin of the standard for the manufacture of this type of track comes from the International Union of Railways, founded in 1922, with the objective of promoting the global  rail traffic and confront the transportation challenges and promote the  sustainable development. The UIC plays an important role in the pieces standardization for the railways construction, and the 60E1 / UIC60 rail is the best example of this.
Dimensions:
Type of Rail
Standard
Dimensions mm
Section S
Mass m
H
B
C
D
E
cm²
kg/m
European standard EN 13674-1

60E1 (UIC60)

EN 13674 - 1
172,00
150,00
72,00
51,00
16,50
76,70
60,21
Mechanical properties:
Standard

Steel grades

Mechanical properties

Rm MPa

min A5 %

HB

EN 13674 - 1 (2006)
R200
min
680
14
200 - 240
R260
min
880
10
260 - 300
R260 MN
min
880
10
260 - 300
R350 HT
min
1175
9
350 - 390
UIC 60 rail profile :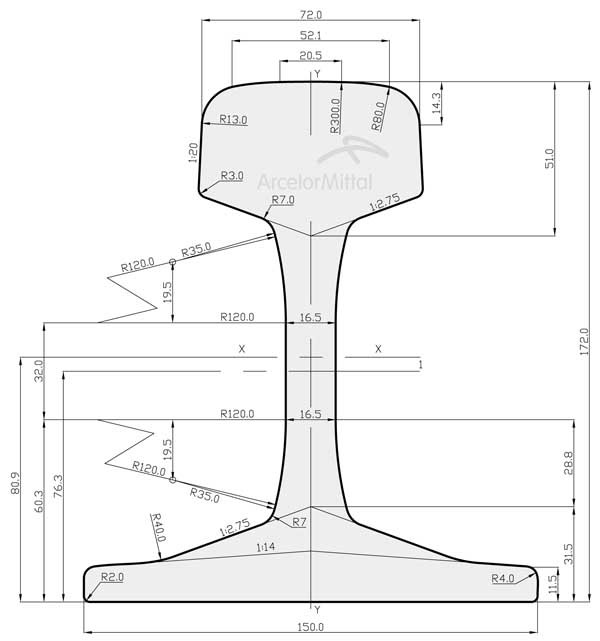 Download the UIC60/60E1 rail profile 
Manufacturing and distribution of
60E1(UIC60) 
---
ArcelorMittal manufactures the 60E1 / UIC 60 rail in their factories in the United States and Europe and distributes it anywhere in the world. Please Check for more information and conditions.