ArcelorMittal estuvo en "Rail Live" Bilbao (del 5 al 7 de marzo) Feria & Conferencias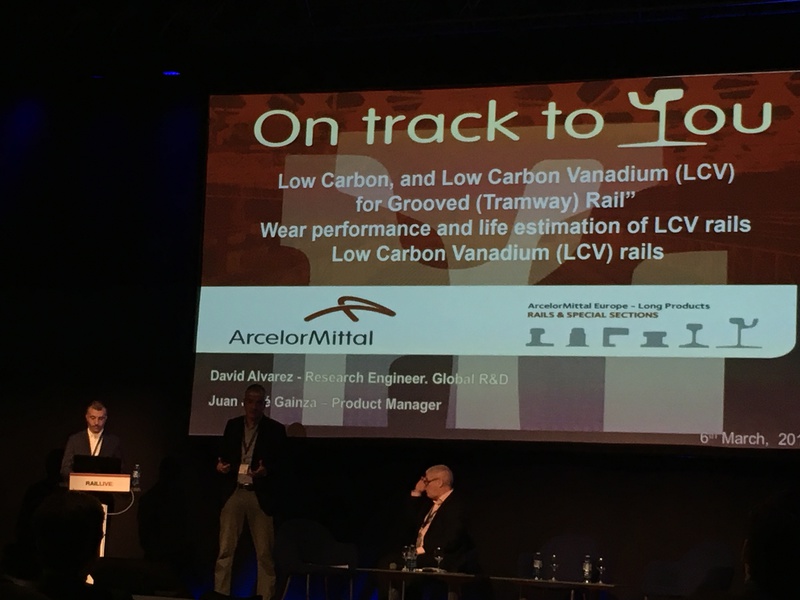 CONFERENCIAS
Miercoles 6th Marzo 2019 – KEYNOTE PLENARY AND ROUND TABLES
- 11:20h. Eric Kapornyai (Area Manager Central Africa)
Technology and Strategy Roundtables
Miercoles 6th Marzo 2019 – KEYNOTE PLENARY AND ROUND TABLES
- 12:55h. Juan José Gainza (Product Manager Grooved &Light Rails, ArcelorMittal) & David Alvarez (Research Engineer, ArcelorMittal R&D)
Low Carbon, and Low Carbon Vanadium (LCV) for Grooved Tramway Rails with wear performance and life estimation of LCV rails
What are the advantages of LCV when compared to the use of High Carbon rails for urban and city transit?
The impact of LCV rail microstructure on wear and how does this provide an extended rail life for new grades?
Low Carbon Grooved rail: The importance of weldability
About Rail Live 2019 (Bilbao 5th-7th March). RAILLIVE! is where the Global Rail Industry meets
With a record attendance in 2018 and enquiries already flowing in, it is crucial you get involved early so we can discuss with you the best way to help you attain your business development goals, may it be by sponsoring a keynote speech in the strategic international congress or by securing a key position on our exhibition stands.
More info: http://www.terrapinn.com/conference/metrorail/index.stm
Si desea visitarnos o establecer una reunión, por favor contáctenos para organizarla, esperamos recibir su visita.
Puede inscríbirse aquí para solicitar el pase.