ArcelorMittal uczestniczy w pierwszych konferencjach sieciowych Innotrans
10.01.2017
At the end of November 2016, ArcelorMittal Europe – Long Products Rails & Special Sections joined several companies for conferences organised in Madrid aiming to present the technological innovations that Spanish companies launched at Innotrans last September.
These conferences organised by the Railways Foundation Ground Transportation Training Centre, in collaboration with the Spanish Railway Technology Platform (PTFE), Vía Libre "Railway magazine" and MAFEX (the Spanish Railway Association), gathered many key players of the railway sector. ArcelorMittal was one of the participating companies of the first networking conference, along with CAF, Alstom, Thales, Siemens and Bombardier.
The networking conferences were structured around 3 panels:
innovations in signaling and telecommunications
developments and technology applied to the rail transport of passengers
innovation and technological developments in the railroad service
ArcelorMittal welding pilot plant: an added value for our products
The panel dedicated to innovation and technological developments in the railroad service was initiated by David Alvarez, Research Engineer of the Rail Unit of ArcelorMittal Global R&D Asturias Centre, who explained the different prototyping facilities and equipments that ArcelorMittal has developed, such as the welding pilot plant, the twin-disc and the full scale bench.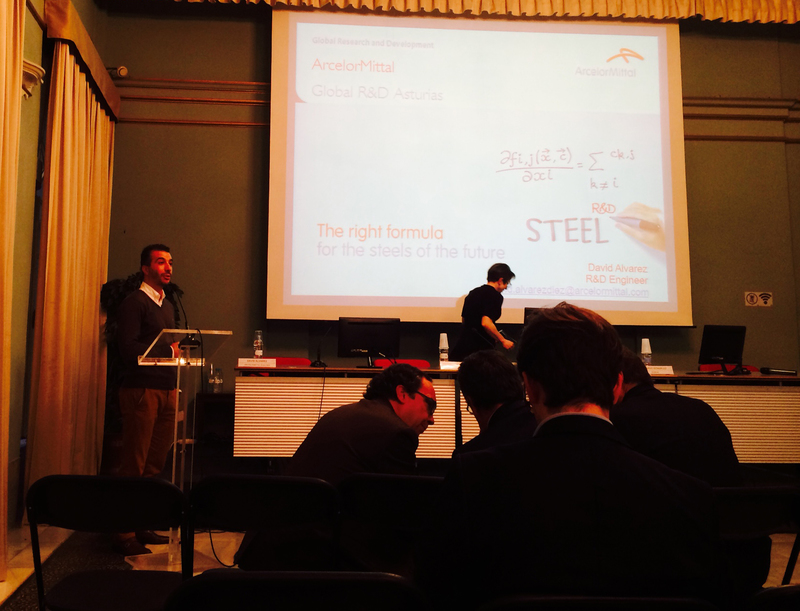 "Rails welding is a critical process for our customers, therefore, in the development of new products, it is important to know the associated problems of these processes in order to be capable of providing recommendations on the most suitable welding techniques in every case".
This welding pilot plant allows ArcelorMittal to give welding instructions to customers (adding value to our products) and to develop new solutions to meet and anticipate tomorrow´s client needs and demands, offering innovative and cost-effective R&D solutions.
Testing our rails under extreme conditions
The Research and Development Centre has also other pilot plants and equipments to evaluate the wear behaviour and fatigue by rolling contact of wheels against rails. A test machine has been designed, built and put into operation to be capable of applying loads and service conditions produced in the railway under extreme conditions.
The twin-disc test reproduces the damage generated in the railway as a result of wheel contact, being a fast and simple technique to compare in-service behaviour and different steel qualities performance.
Following Innotrans, the most important fair in the railway sector and meeting forum of the international railway industry, these conferences allow further discussions about the technological innovations launched during the fair. In future sessions specific approaches will be made for other topics such as high-speed rolling stock, commuter trams, and other technological aspects developed by the national industry.