ArcelorMittal selected as Shell's supplier of choice for structural beams and sections
22.06.2012
ArcelorMittal Projects, part of the Distribution Solutions segment, has been selected by Shell, a global group of energy and petrochemical companies, to be its single source provider for offshore structural beams and sections.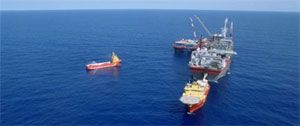 The five-year enterprise framework agreement (EFA) was signed in the last quarter of 2011, with the possibility to extend the agreement for an additional five years.
"This contract is a further significant addition to our success and an acknowledgement of the added value we bring through our business model. By differentiating ourselves as a specialised and dedicated partner offering flexible and creative steel solutions, we are able to meet the high expectations and changing demands of the oil and gas industry – making us a true ally and reliable partner of choice," said André Roosendaal, managing director of ArcelorMittal Projects South East Asia and Pacific.
The agreement foresees the supply of offshore structural beams and sections to Shell's international projects worldwide and extends to their engineering, procurement and construction (EPC) contractors.
Helping our customers meet their business objectives
---
ArcelorMittal can help customers like Shell meet their unique design engineering practice (DEP) steel specifications. ArcelorMittal Projects will be supplying all their required project volume quantities, subject to Shell's project investments and the effective implementation of this EFA.
Customised and dedicated project management support, quality assurance and control, as well as tailor-made logistics services will be provided through each stage of their projects.
The Projects team in Singapore will be taking the lead with the commercial management follow up and the project management execution, but will rely on the good support and cooperation of our Long Carbon Europe segment and other entities of the Group when it comes to the steel supply.