ArcelorMittal has started delivery of Grooved Rails for Luxtram switches
Luxembourg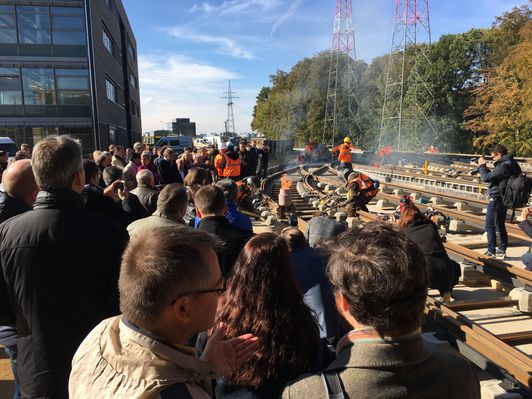 ArcelorMittal Rodange Luxembourg site has started delivery of Grooved Rails to Vossloh Cogifer Kihn for the production of Luxtram Switches. ArcelorMittal was chosen as the preferred provider for Grooved rail by Vossloh Cogifer Kihn located in Luxembourg for their production of switches for Luxtram. It represents ArcelorMittal determination to be present in one of Luxembourg´s most iconic transportation projects.
It is a particular motivation for our team in Rodange (Luxembourg) to produce rails for Luxtram project! We are happy and proud that our tram rails satisfy the tightest tolerances of the standard, the same way as the crane rails from Rodange are bench mark in the market for decades"
Henri Reding - CEO, ArcelorMittal Belval & Differdange, Plant of Rodange.
Grooved Rails delivered for Luxtram switches are of the same profile type, grade and quality as for the entire first line of Luxtram: 54G1 (41GPU), Grade R200 according EN14811.
Grade R200 provides best welding and deposit-welding conditions on embedded track. Since the main objective of embedded rails is to avoid replacement, this grade provides best performance to deposit, re-surface rails while keeping maintenance cost to a minimum. Rail/wheel interaction will by itself help regular grinding and maintenance of the rail to avoid surface micro-cracks.
Among its advantages:
Best performance for welding and deposit welding.
Best rail/wheel interaction, decrease maintenance.
Avoidance of rail replacement by means of deposit/repair
Welding procedures
In addition, 54G1 (41GPU) Grooved Rail profile as its denomination implies is manufactured according G-group tolerance of EN14811. G group manufacturing allows tighter tolerances in rail verticality +/- 1mm foot to running edge asymmetry when compared to R-group tolerances of the same EN14811 which carries a wider tolerance of +/- 3mm.
Rail verticality becomes essential for adjusting track width, embedding material interaction and to have best rail/wheel contact performance. All these factors play a significant role in reducing costs at the construction site.