ArcelorMittal were at Middle East Rail 2018
ArcelorMittal, the world's leading steel company, were present in MiddleEast Rail 2018 (March, 12-13th) in Dubai, the largest rail exhibition across the Middle East & North Africa.
ArcelorMittal took part of the technical conferences on March, 12th, at 11:00h. ArcelorMittal: "Low Carbon Vanadium (LCV) Rails - Steel Rail manufacturing for Smart Cities" Juan José Gainza, Product Manager Grooved & Light Rail.
Middle East Rail 2018 is the largest rail exhibition and conference across the Middle East & North Africa, with over 9,000 visitors and more than 300 exhibitors will come together to meet the operational needs of regional rail operators. The Exhibition and conferences will take place at Dubai International Convention Centre on March, 12th- 13th.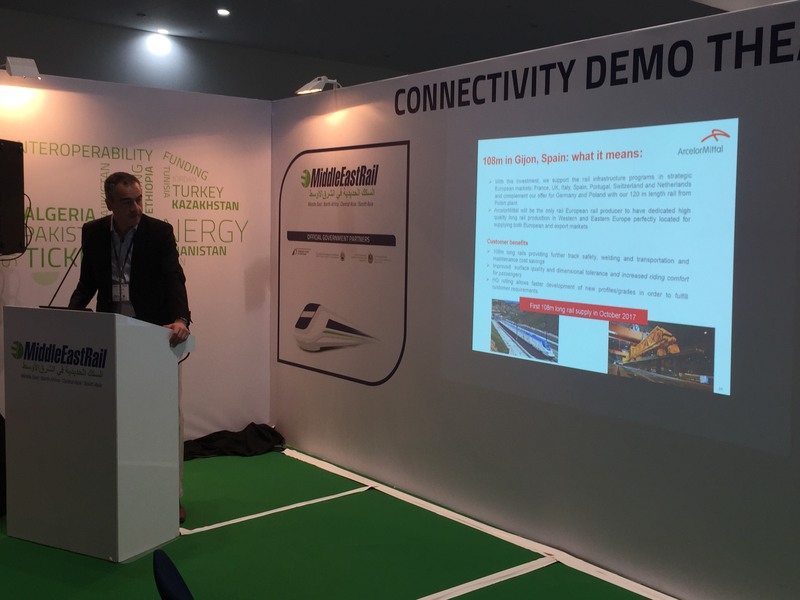 If you plan to visit us or want to set up a meeting, please contact us to organize it at stand C-42. We look forward to receiving your visit there: Inscribe you here for individual pass.

Middle East Rail Conference is the largest of its kind in the region, hosting the largest gathering of rail operators, government entities including Ministerial level representatives from over 22 countries, construction companies, railway suppliers, ports, supply chain executives, cargo owners and technical experts. Middle East Rail Exhibition is also the region's largest rail exhibition and where regional rail operators and government come to source the latest technologies and solutions for their networks.
More info: https://www.terrapinn.com/exhibition/middle-east-rail/index.stm