We were at ... Middle East Rail 2016
March 8th - 9th 2016. Dubai, EAU.
ArcelorMittal, the world's leading steel company, were in Middle East Rail 2016 in Dubai, the largest rail exhibition across the Middle East & North Africa. MiddleEast Rail 2016 is the largest rail exhibition and conference across the Middle East & North Africa, with over 9,000 visitors and more than 300 exhibitors came together to meet the operational needs of regional rail operators. The Exhibition and conferences took place at Dubai International Convention Centre on March, 8th -9th.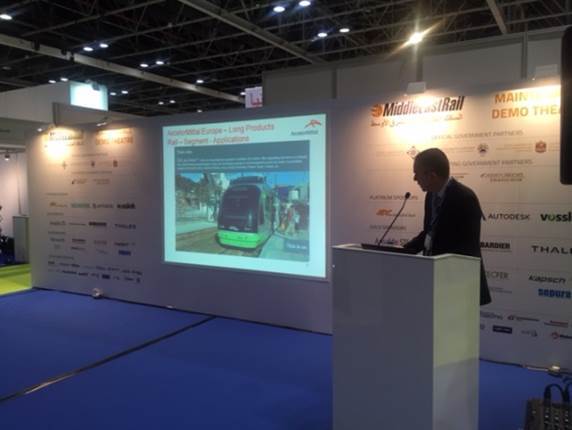 ArcelorMittal took part of the technical conferences at the "Maintenance Demos Theatre" on 8th, March at 16h. ArcelorMittal Transforming Tomorrow: "New Product & Solutions for Urban Rail Infrastructure" Juan José Gainza, Product Manager Tram & light rail.
Middle East Rail Conference is the largest of its kind in the region, hosting the largest gathering of rail operators, government entities including Ministerial level representatives from over 22 countries, construction companies, railway suppliers, ports, supply chain executives, cargo owners and technical experts. Middle East Rail Exhibition is also the region's largest rail exhibition and where regional rail operators and government come to source the latest technologies and solutions for their networks. More info: https://www.terrapinn.com/exhibition/middle-east-rail/index.stm