Tram Rails
The tram system, rapidly growing worldwide during the last years, offers traffic solutions and innovations. Grooved, Block & Vignole Rails.
Tram Rails (grooved, vignole & block rail)
Tram systems, have been rapidly growing worldwide during recent years. They provide innovative traffic solutions, both in urban and suburban areas. This is due in part to its best accessibility, low construction costs and limited environmental impact when compared to other transport alternatives, such as bus or even metro systems. ArcelorMittal is a supplier of tram rails (Grooved, Vignole and Block Rail).
In terms of Tramway Systems, you can find additional information about the Grooved, Vignole and Block Rails supplied by ArcelorMittal, and how they can help reduce fill-in material and construction costs.
Characteristics of our 
tram rails
---
Characteristics of our tram rails, according to EN 14811 within G or R tolerance group manufacturing categories
Grooved rail: 51R1 (Ri52), 

53R1 (Ri53), 54G1/54R1 (41GPU), 54G2 (Ri54G2), 55G1 (35GP), 55G2 (41GP10), 55G3 (41GP13), 55R1 (Ri55NK), 57R1(Ph37),  59R1 (Ri59), 59R2 (Ri59N), 60R1 (Ri60), 60R2 (Ri60N), 62R1 (NP4aM), 62R2 (Np4aS), 67R1 (Ph37A).

​Block rail: 57K2 (LK1), 

53K2 (MSzTS52), 58K2 (112T).

Construction rail: 73C1 (VKRi60), MRS125
Vignole rail (according to EN 13674): 49E1 (S49), 50E6 (U50), 54E1 (UIC54).
Low Carbon and Low Carbon Vanadium (LCV) R290V Grooved Rails: the best options for city transport network
Use of Low Carbon and Low Carbon Vanadium (LCV) rails, with the addition of very small amounts of Vanadium provides an increased grain refinement throughout the entire rail and not just the outer surface.
This technique results in increased hardness and elongation compared to rails in grade R200, but with even lower carbon content. Also, thanks to the higher strain and grain refinement, after only six months of service, track hardness readings increases up to 30-45 HBW due to the strain hardening produced by wheel/rail interaction. In addition, since rolling stock wheels are associated with lower speed and low axle weight, the actual wheels do a smooth grinding on softer steel rails, helping to self-maintain embedded tracks, avoiding any Rail Contact Fatigue or head checks. 
In fact, experience has shown Low Carbon (softer steel) rails are most suitable for City Transit embedded tracks. Thus, extending the life of the rail, and avoiding the high cost of replacing embedded grooved rail and street disruption.
Low carbon and LCV grades such as R290V provide increased performance effectively solving rolling contact fatigue / head checks linked with extreme hardness levels (HBW). One Grade = One Rail, with no outer rail treatment for best deposit welding techniques. In addition, rail bar welds of R290V do not loose performance at the weld point.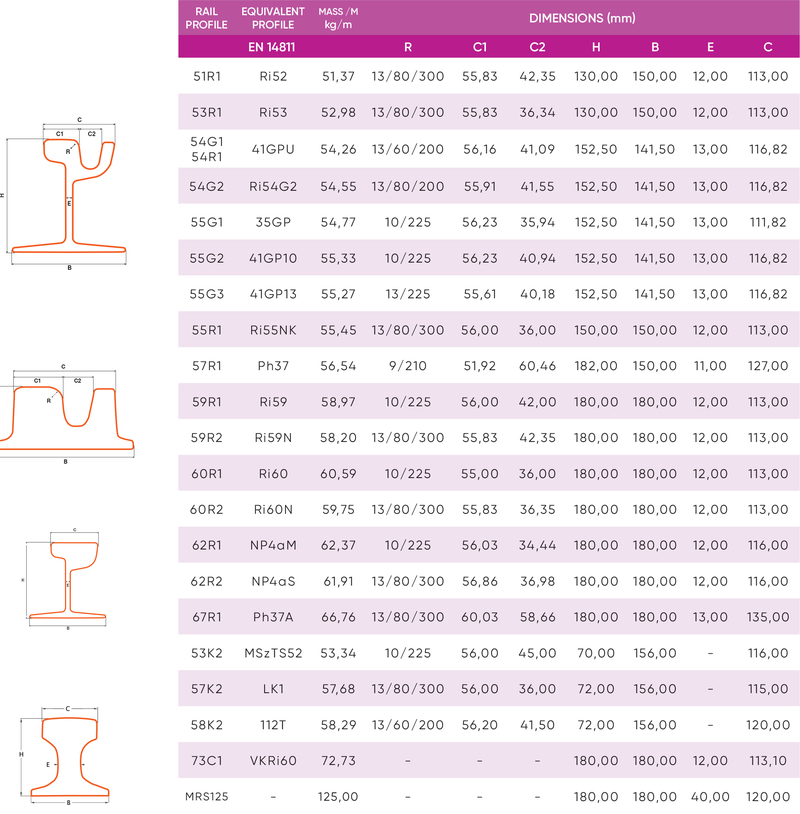 ​
Quality control
---
Implementation of a total quality system is aimed at securing quality of the end product providing answer to most demanding requirements for rail performance.
Product Contact
---
​Frederic GOUJON | Product Manager Crane, Grooved and Light rails 
ArcelorMittal Rails & Special Sections 
66, rue de Luxembourg 
L-4221 Esch-sur-Alzette | G.D of Luxembourg 
rails.specialsections@arcelormittal.com