ArcelorMittal zaangażował się w opracowanie przyjaznego dla środowiska systemu transportu.
15.06.2017
Wraz z rosnącą liczbą osób zamieszkujących tereny miejskie, miasta potrzebują różnych środków transportu, aby ograniczyć przeciążenia w centrach miast. Tramwaje oferują dobrą alternatywę, ponieważ są łatwiejsze w budowie niż linie metra, są mniej kosztowne i bardziej przyjazne dla środowiska niż inne środki transportu, takie jak samochody lub autobusy, generując mniejszy hałas.
As a result, ArcelorMittal proposes existing and especially new tramway and LRT systems to work with proven and widely available European technology in existing European City operators and test tracks.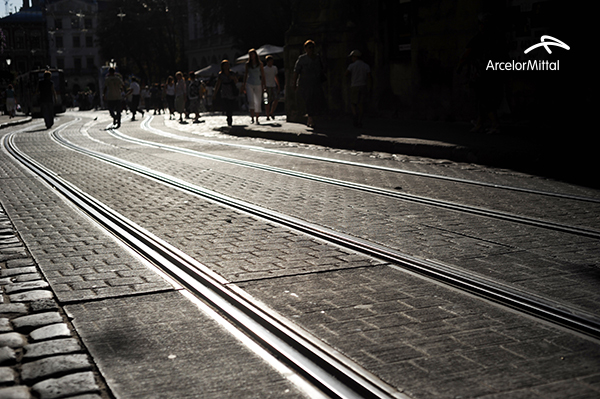 ArcelorMittal Grooved Rails is the best option for city transport. The use of Low Carbon Vanadium (LCV) rails with the addition of very small amounts (less than 0.20%) of Vanadium, actually provides an increased grain refinement throughout the entire rail, not just the outer surface (as rolled Head Hardened rails). This technique results in increased hardness and elongation compared to rails in grade R200, but with even lower Carbon content. Also, thanks to the higher strain and grain refinement, after only six months of service, track hardness readings increases up to 30-45 HBW due to wheel/rail interaction of cold forging.
In addition, since rolling stock wheels are associated with lower speed and low axle weight, the actual wheels do a smooth grinding on softer steel rails, effectively helping to self-maintain embedded tracks. This is by far the best method to avoid any Rail Contact Fatigue (RCF) or head checks commonly associated with as-rolled Hardened rails.
In fact, experience has shown Low Carbon (softer steel) rails are most suitable for City Transit embedded tracks due to their Low Carbon content allowing for best welding and deposit welding techniques. Thus, extending the life of the rail, and avoiding the high cost of replacing embedded grooved rail and street disruption.